Shows 2021
Join us at the Old Town Farmers' Market located at 301 King St., Market Square every Saturday, rain or shine, from 7:00 a.m. to 12:00 p.m.
We will be at the Old Town North Community Partnership located on 901 North Royal Street in the Old Town Canal District Montgomery Parking Lot on Thursday's from 3-7pm.
Summer Happenings
 Available in notecards, limited edition prints and small frame prints.
Folk art has been a tradition throughout the world; it is referred to as naïve art in Europe and peasant painting in England and Asia. After the War of 1812, American folk art became strongly focused on pride and patriotism in the United States and has blossomed ever since. Folk art is portrayed as the art of the people, for the people and by the people because it's the art that is quintessentially America. I am an American folk artist like the folk artists of earlier centuries. I am self-taught and my paintings are based on narrative using symbolism and humor to tell the story of the painting. The majority of my American folk art paintings and prints portray the American landscape with a strong sense of color, patriotism and locale. Alexandria, Virginia, Washington, DC, New York City and Nantucket are favorite places because of their history and numerous celebrations. Humor also plays an important role in understanding my paintings such as in "Mermaid 10 K Today" and "Flamingo Beach".
My love for America is shown through my folk art. My folk art paintings, limited edition American folk art prints and note cards proudly reflect the character and charisma found in many of the United States'. I am excited to be able to offer my collection of Americana paintings, prints and folk art note cards.
---
Face Mask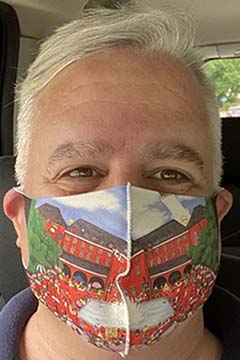 Click image for more information.Old Town Farmers' Market, Alexandria, Va "Face Art" Mask.  "Maximum 5 per order" unless we add for orders of 25 or more contact Jay Palermino at Jay@PatPalermino.com and 571.259.1385.
Ten Card Pack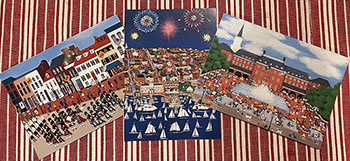 The packs of 10 cards are $16.00/pack and the top card scene #1 has 4 same scene images followed by the second same scene middle 3 cards scene #2 and the last (rear) same scene #3 image has 3 cards as well and are accompanied 10 envelopes wrapped in a fitted plastic sealed pack pouch. Click the Image for more information.
Artist Patricia Palermino pulls it off, as a registered nurse, to boot, newly, approved, social-distance featuring Patricia Palermino's Folk Art and the Old Town Farmers' Market, Alexandria, Va. Individually wrapped, soft material of breathable, durable and washable cloth USA hand- made Thermoplastic Polyurethane.Go here for more information.
Look for Nantucket, Alexandria, New York City, and others.
Summer Happenings
 Available in notecards, limited edition prints and small frame prints.
Featured Prints

Statue Of Liberty
First Night Alexandria
George Washington
Masonic Temple
Spite House